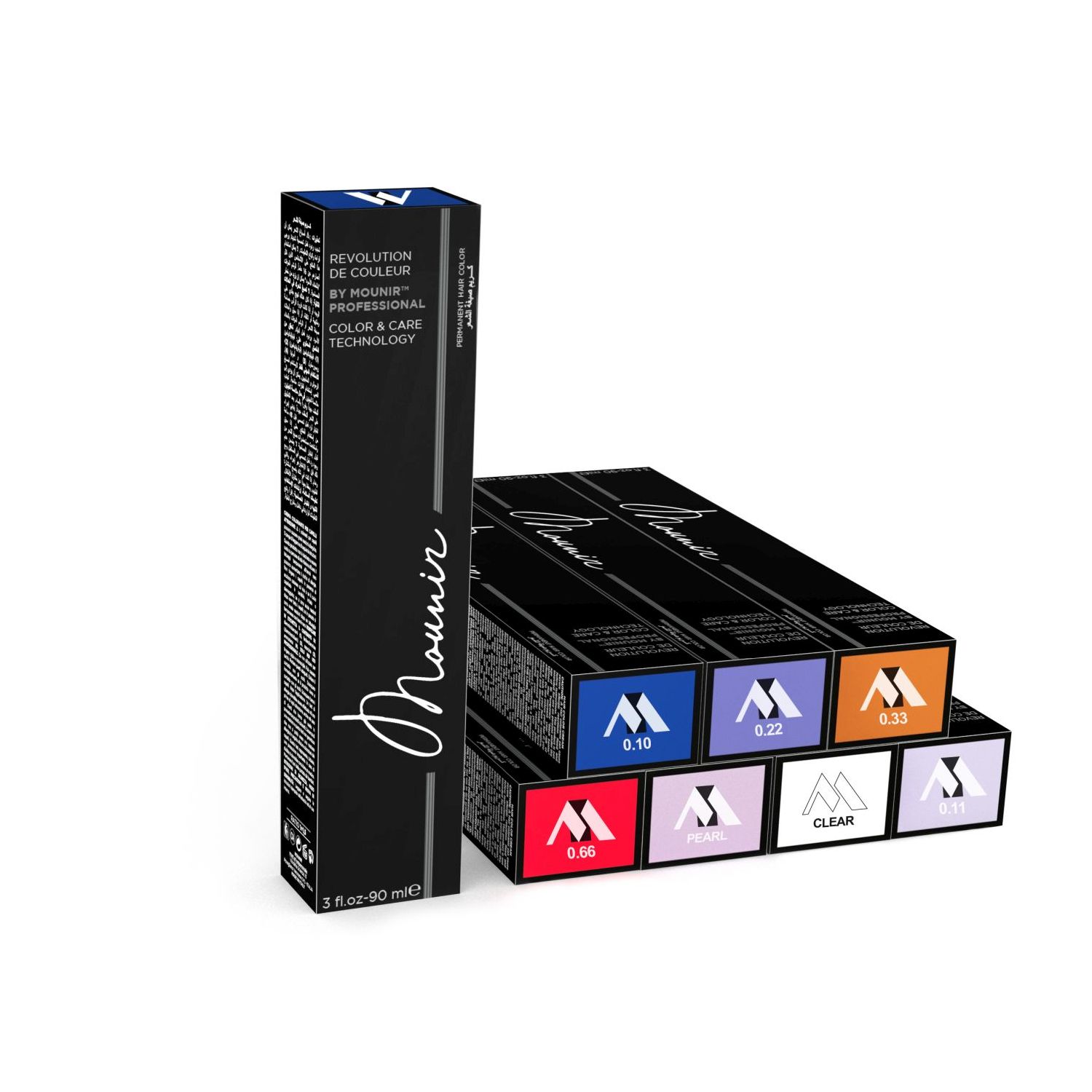 The Correctors are:
Clear, 0.10, 0.11, 0.20, 0.22, 0.33 and 0.66.
I mix them with other colours to add to the intensity of the colour like red I would add 0.66. Or a violet color, I add more violet. 0.10 is grey/blue, I use it if I am doing a blue/black to add blue to it. The clear I use when I want to decrease some reflects or the intensity of a color.
To reduce the intensity of some colors I would mix them with the clear to lower their strength or intensity.
0.33 is also a special and important number that has two functions.
1, I add it to my mix to strengthen the gold colors.
2, I use it most of the time in my formulas to solve some challenges.
For example, if I am doing a formula with 5.11 or 5.23 on a light-yellow hair.
if the final result i get is grey/violet color , but i wanted the beige color, I will add 2-3 cm of 0.33 in a bowl and mix it with a 10 or 20 peroxide and with 40-50 mL of water.
This makes it liquid like a shampoo. I then apply it like a golden shampoo to the customer's hair for 1-2 minutes to remove the unwanted grey/violet color that I see.
0.11 I use in most of my formulas whether I am doing a full tint or toning. I add it to intensify the grey color.
0.20 is my favorite color as it is smooth and gentle, and I often add it to intensify the violet in the formulas. 0.22 is more intense and different to 0.20.
If I am toning the hair that is level 11 or 12 and I am using 0.11, I also like to add 0.2 in the formula as I love the violet to be present in most of my colors.
The violet pigment will give me a very beautiful brightness; when the violet is present in formulas (in small amounts of course) it will enrich and make the color more beautiful.
The violet will affect the brightness of the color and final result.