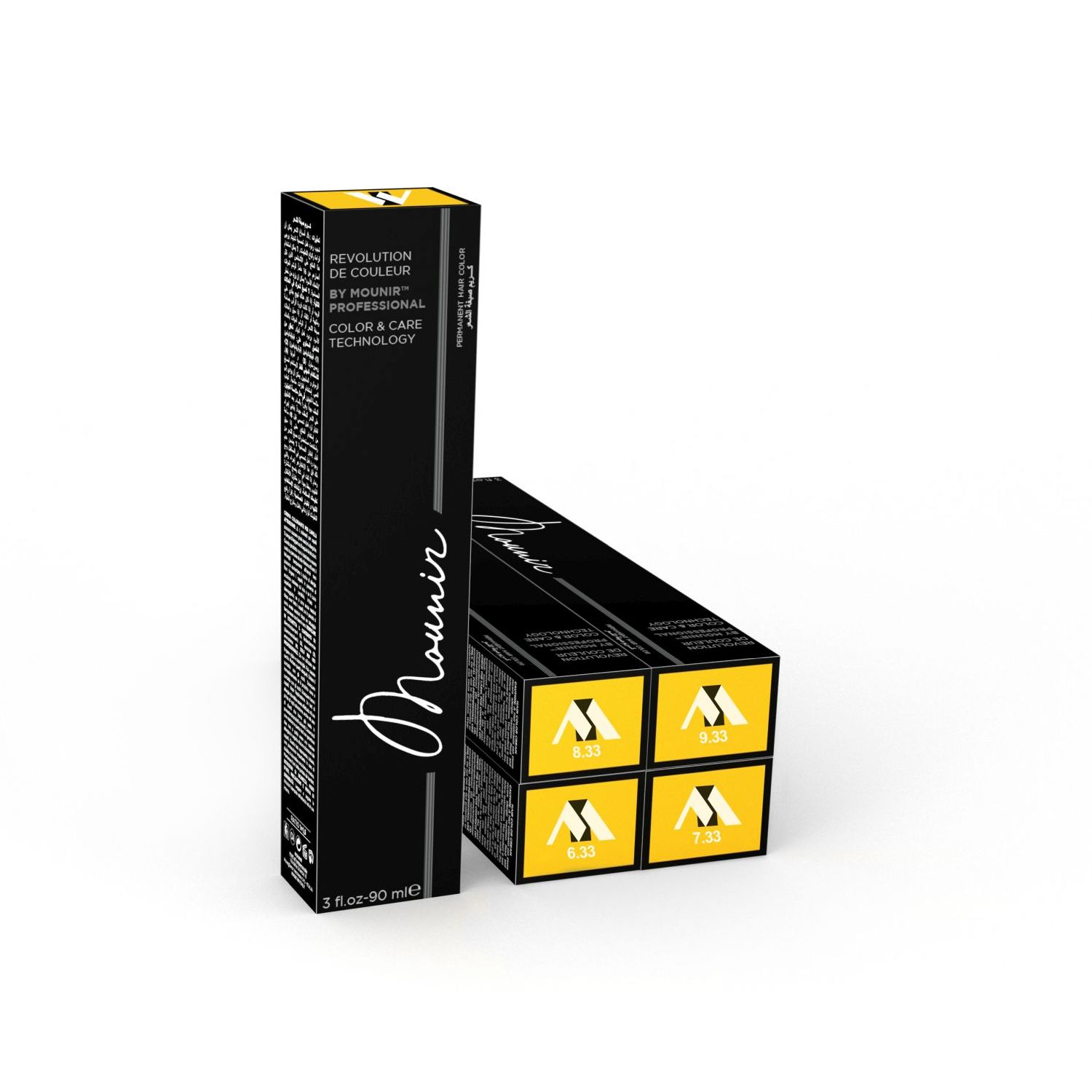 We will move to the beige color that is .32, it is composed more of gold than violet. Available in shades from 5.32 to 9.3.
On light colors and light bases, it will give the same colors that you see in the catalogue. You can also notice that in all the formulations and numbers, I use lots of violet and it is always present to counter the red, orange and yellow.
I focus on my colors to have the violet and the grey in the composition to counter the orange and other colors that people don't like. Same rules and explanations apply to the .12 family as the beige .32 family.
The difference between them is that in the .32 family we have the golden and violet but in .12 we have grey and violet.
This means that if, for example, I want to have the hazel natural color without orange and other unwanted colors- I use the .32. That will give an astonishing color. I am talking about using it on base levels 5/6/7/8. You will produce a beautiful neutral golden color. Lots of clients love the golden hazel colors.
I use this color a lot. Its composition and results are really beautiful.We have a beautiful mix of violet and gold that doesn't turn to orange or dark colors. It will give you the beautiful hazel color if you are talking about levels 6/7/8.
However, if I am working on toners, or on certain light hair with the .32, it will give 100% the beige color that we see in the catalog. For example, if I have a light hair level 10 and I want to do a toner with 7.32 or 8.32, it will give a warm beige color that doesn't go to gold or violet.
I want to focus on a simple point, when I am talking about toning the hair. It must be pre- lighten to a light yellow level.
We talked about applying beige and ash pearl on a pre-lightened hair level such as light yellow not orange and not white.
The results will differ a lot if we are applying on a lightened white or orange level and this is something everyone knows.
We are talking about lightning to yellow on level 9 or 10 to obtain the colors 100%. If you are applying on an orange lightened hair, the result won't be the same. Even if you try white lightened hair, the result won't be the same either.
We are talking about a yellow base lightening and today I would like to highlight something.
I am talking about the toners. The colors that you see Mounir doing that we apply on three levels of brightening.
I always rely on:
1, bright orange level.
Or 2, gold or yellow.
Or 3, light yellow.
These are three lightening levels that I aim for before toning.
If I lighten to orange/bright orange, I go for shades like caramel, hazelnut, ash and middle colors.
When I lighten to gold or yellow, I can have any result that I want from the colors in the catalogue.
You can obtain the best result and have exactly the same colors as per the catalog if you are lightning to yellow before your toners.