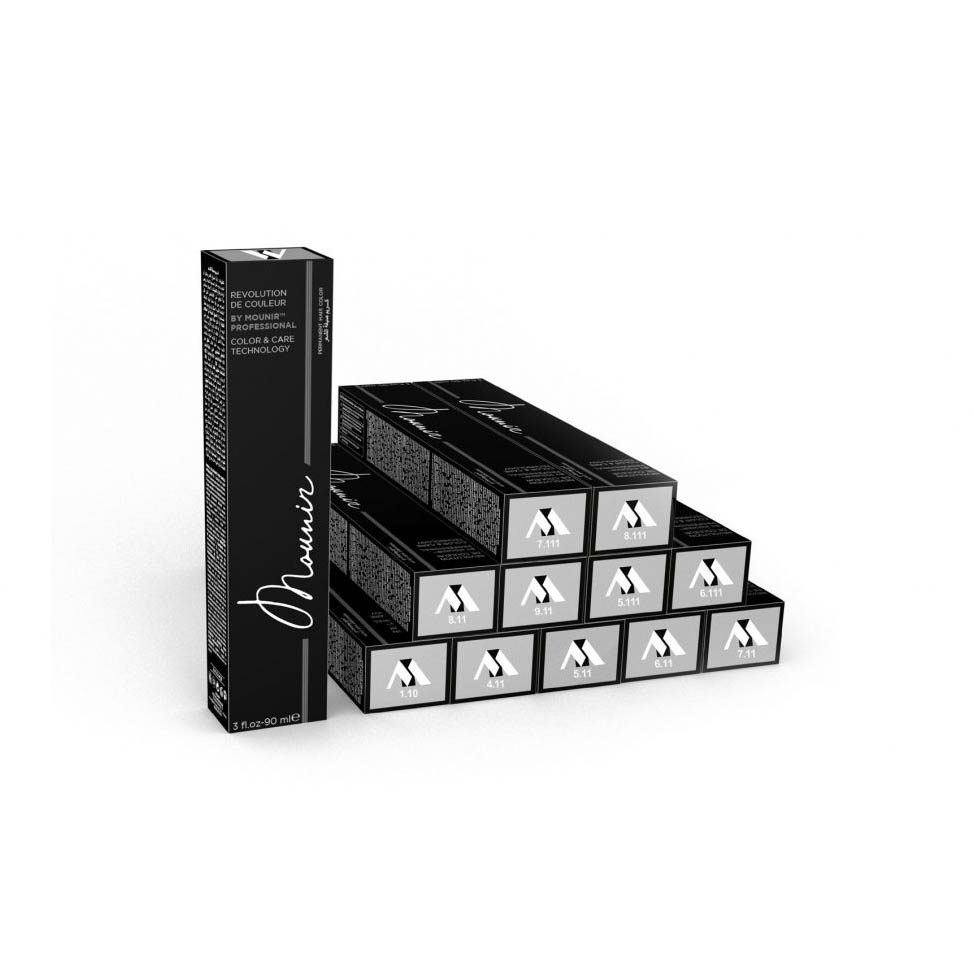 We move to the ash intensive colors (cendrés) that I personally find really special and i really love it. What can you explain to us about it?
The ash is .11 and .111. Not many brands have this ash intense color that you can use in the salon.
True, these reflects are special for me and even for otheer people.
People see Mounir as the Grey and silver expert and hairdressers around the world are curious as to how to get these shades.
it is known worldwide that each company builds their reflects to mimic this look. Some use blue, others use grey, others green or other colors to get the basic color of grey.
This is where i modified the formula to get a range that looks like me. To produce the shades that my followers see me produce every day.
I changed the pigment composition and proportions of the blue and the grey to produce the best grey to suit my style and in line with the smooth results I like.
This range has really beautiful colors. The grey in it is natural, not fake or dark and doesn't give blue or green. It gives pure grey.
The colors are amazing, and the coverage is great. In addition,we created the .111 family of colors.
Prsonally, I find the .11 family amazing and perfect.
But we sometimes have cases that oblige you to strengthen the grey. So we invented the .111 shades to support the .11 shades in which we concentrated the grey more.
What we are talking about is really important, lots of people have these problems and I was even one of them. I used to work with many different brands before but because of these challenges, I decided to do my own brand that is versatile.
There is no brand in the world that can give you everything you want and let you achieve all you desire and all your techniques to get pretty colors.
It was this reason, I started to gather all my experience in one brand that looks like me and doesn't have any limitations.
Now we will talk more about the secrets of this brand and how it can help the hairdresser to facilitate and support their work.
I like to connect with professional hairdressers who have a great passion to create colors.
I made many color families and mixes and ideas available for people that they can use without needing any other product or brand to get any color or result they desire.
it is a wide range and they can use the available reflects to create even more shades.
So Mounir, many hairdressers are suffering because they are not able to get the pretty colors you are creating: beige,blonde, ashy, grey; what do you think the solution is?
The solution is that the hairdresser should have strong tools.
Like me or anyone else who loves to succeed and to produce special work, always look for the products that help you achieve your goals. Today, this brand is an extra helping hand for me:
the powder, ARKITEKT, shampoo, colors, etc. I am doing all this work to get this product to all the salons that would like to get Mounir's colors. And people can see on social media the level of the results before and the levels we are achieving now.
I used to use 2 tubes from one brand, a tube from another brand, 3-4 tubes from yet another brand just to obtain these
colors that people can see.
What I've done is I gathered all this and put it in one brand. This doesn't mean that you cannot mix colors anymore but what is important is that you can mix them and discover new colors.
I would like to focus on this. I need to ask each person using my brand to try to mix new formulas and colors and you will get even new special and different colors.
What is important is that when a hairdresser uses any of these colors in my range you will get a satisfying result.
This was a problem before, we used to waste so many colors trying to create new shades without knowing what the final result will be.
With this brand, there are no surprises at all with the result with a great focus on the beige and grey colors.
I used to mix 3 different colors to obtain the beige but now with only one tube I can have an amazing result.
The family I am talking about is .12 which is a really important part and its colors are amazing. Beige pink for example.
Many hairdressers are trying to find a satisfying brand to develop their work to a new level.
With this brand, they won't have the need to mix different brands to get colors, this brand gives them all the choices that
they want, they will be able to obtain any color they want.
This brand will create new talents that I like to see, and in each master class I say there should not be one Mounir only. There should be other people shining too and my goal is to help them.
This brand should reach all my family of followers, the people I influence. They love me.
As you start to use my brand in your salons you will see how the level of your work and the results will change. This is another world, and as it changed my life, it will change everyone else's life too.