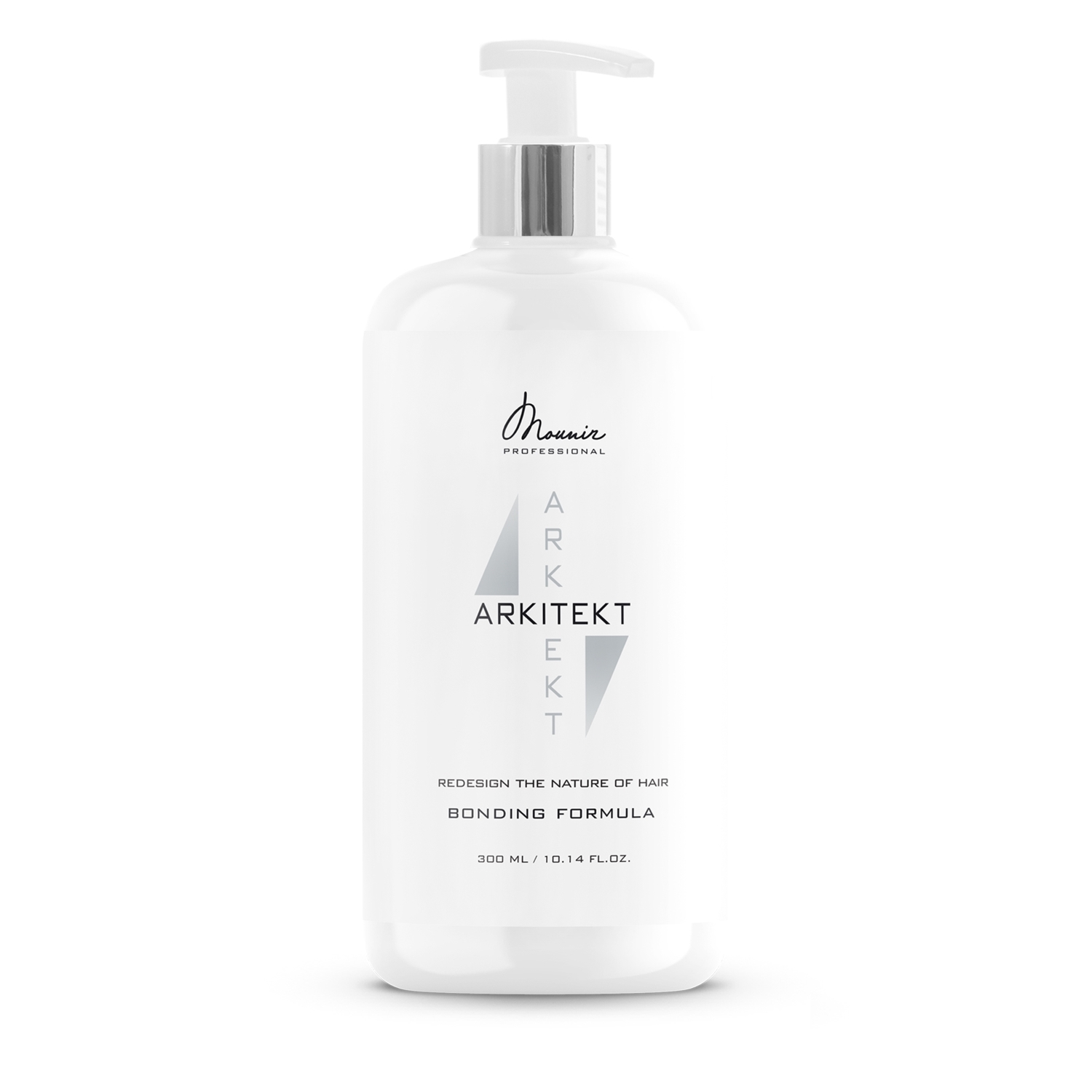 Now THE ARKITEKT
It is a super plex and we will discuss its functions.
Until the day that THE ARKITEKT super plex was created People ask what is Mounir's secret.
Mounir bleaches the hair from one degree to another without the hair losing its brightness and it remains strong and healthy.
Today, the ARKITEKT is the real secret because of how it works and its functions that serve the transformations I do.
We should explain precisely about its importance and the functions and strengths of this product in comparison to other products.
Plex are common worldwide but this super plex or ARKITEKT is different.
The challenges I faced with the products that I used before they covered the hair from the outside to the inside. In other words, in 15-20 days the hair will return as it was after the bleach.
Today, the ARKITEKT function is to rebuild the inside of the hair to the outside. It protects and regenerates the hair; it has an amazing function.
There is one important thing I want to say. When you are doing a bleach or lightening the hair, the hair loses oxygen and water.So, it loses its moisture and vitality.
My ARKITEKT product starts rebuilding from the inside to the outside, it protects the moisture and oxygen inside the hair.
This makes the lightening process 100% healthier.
It is an important treatment to the hair with the lightening process.We can use the ARKITEKT as a treatment applied weekly or with the dye and it also locks the color and slows the fading.
The ARKITEKT proves time and time again that it locks the colour and prevents fading unlike any other Plex.
Now my secret is out. I advise every hairdresser to try this product. I talk with most love and passion about ARKITEKT because it is a great product that protects us as hairdressers and helps us avoid challenges and to achieve the desired bleaching results and colors.
You all know how much risk there is in our domain of work especially in my work and the  ransformations that I do. The ARKITEKT is a very important tool that I rely on.